About a Painting: What the Living Do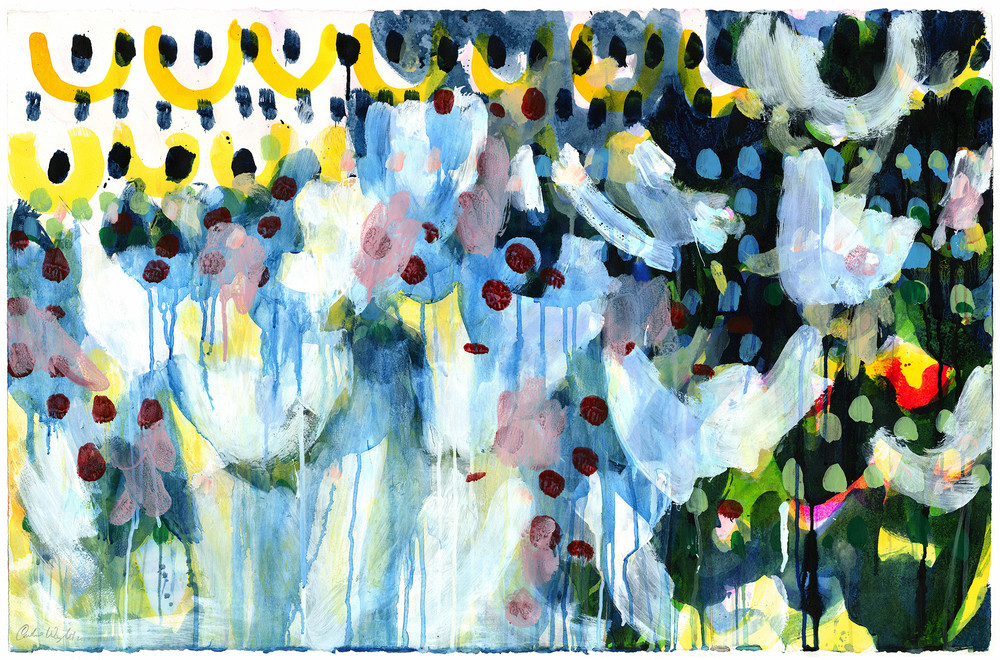 What the Living Do. Acrylic, ink, flashe and gesso on Arches hotpress watercolor paper. 26x40".
This painting was completed in the late summer of 2017, and titled for a book of poems by Marie Howe. A more recent book, Magdalene, had recently come out, and I was reading it like a rosary. But I listened to an interview she gave for On Being, and heard a bit from this older work. This book, from 1997, is a remembrance of her brother, who she lost to AIDS. Yet the refrain, the final sense of it, is about life. What do the living do? We can't escape pain, loss, uncertainty. We can't escape our mortality, or our fear. But in the face of it, we can love fiercely and plainly, we can smile at strangers, we can linger there in the every day. To quote a bit of Howe's poem:
What you finally gave up. We want the spring to come and the winter to
pass. We want
whoever to call, or not to call, a letter, a kiss-- we want more and more and
then more of it.
But there are moments, walking, when I catch a glimpse of myself in the
window glass,
say, the window of the corner video store, and I'm gripped by a cherishing
so deep
for my own blowing hair, chapped face, and unbuttoned coat that I'm
speechless:
I am living, I remember you.
This painting held me in its grip when it would have been easy to keep going: it told me to wait. I put it up on a far wall of the studio and looked at it for weeks until I knew it was just right in that place, not resolved, but alive.