About a Painting: The Music is with the River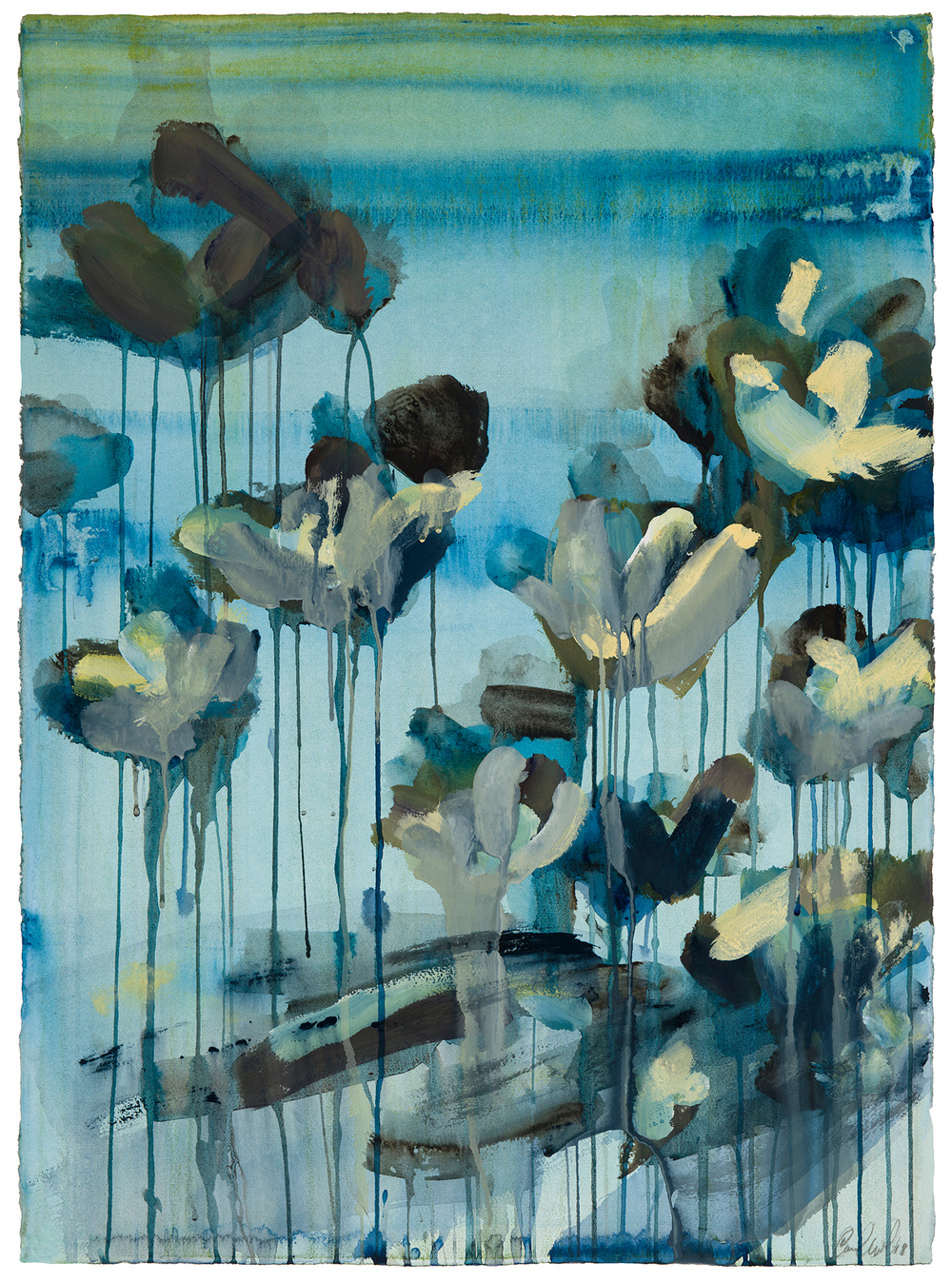 Music is with the River, 30x22", acrylic and flashe on Arches watercolor paper. 2018.
I steal a lot of painting titles from poetry.
It's asking a lot, if you think about it, to make a painting and THEN also come up with an interesting, descriptive––but not too descriptive––title!
Skirting the task with "Untitled" or some inventory number is not only cowardly and pointedly obtuse––it makes keeping up with your own work impossible.
I fancy myself a part-time poet, but when my own words fail, I look to the pros. My studio is always stacked with books of poetry, so it usually doesn't take too long to find a line that hooks me and suits the mood of the untitled painting in need.
This one comes from a Nikki Giovanni poem, Swaziland.
I love this book. Nikki is sitting jauntily on a stool on the cover, with a big grin on her face. Her hair is cropped tight against her head, and she's wearing an oversize Oxford shirt with a Mandarin collar, and those little cloth slippers you find in Chinatown. I want to be Nikki in this picture. Her poems are loose and angry, tossed off and beloved.
This painting is a bridge between the washy, nearly empty deep-space paintings in Untitled Landscape, and the messy, drippy, wilting flower paintings of Wildness. ⁣It's the path crossing the stream, and the stream crossing the path.
⁣⁣
The petals are like drum beats, muddy, gray, brown, light yellow⁣— hitting the water and falling in. ⁣

⁣Here is the poem:⁣

⁣SWAZILAND ⁣
⁣⁣by Nikki Giovanni
⁣⁣
⁣i am old and need ⁣
⁣to remember ⁣
⁣you are young and need ⁣
⁣to learn ⁣
⁣⁣
⁣if i forget the words ⁣
⁣⁣
⁣will you remember the music ⁣
⁣⁣
⁣i hear a drum speaking of a stream ⁣
⁣the path is crossing the stream ⁣
⁣the stream is crossing the path ⁣
⁣which came first the drums ask ⁣
⁣the music is with the river ⁣
⁣⁣
⁣if we meet does it matter ⁣
⁣that i took the step toward you ⁣
⁣⁣
⁣the words ask are you fertile ⁣
⁣the music says let's dance ⁣
⁣⁣
⁣i am old and need to remember ⁣
⁣⁣
⁣you are young and want to learn ⁣
⁣⁣
⁣let's dance together ⁣
⁣⁣
⁣let's dance ⁣
⁣⁣
⁣together ⁣
⁣⁣
⁣let's ⁣
⁣⁣
⁣dance ⁣
⁣⁣
⁣together ⁣